Notable Publications
Members of the Ovarian Cancer Research Laboratory and researchers from the University of Chicago, including Drs. Ernst Lengyel, Melanie Weigert, Dianne Glass, Shilpa Iyer, and Ricardo Lastra, as well as U of C trainees (Drs. Ackroyd, Krishnan, and Javellana – Gyn Onc fellows, Dr. Bilecz – Pathology fellow, Xiao – Pritzker student) published a comprehensive paper in Cell Reports: "A molecular atlas of the human postmenopausal fallopian tube and ovary from single-cell RNA and ATAC sequencing." Expert faculty from the University's Section of Genetic Medicine, Mengjie Chen, PhD and Anindita Basu, PhD, also helped lead the study.
With much of the US population aging, advancing our understanding of how fallopian tube and ovarian diseases form, specifically those that manifest or intensify in menopause, is critical to improving women's health and targeted therapies to combat disease. To better understand the cellular makeup of the postmenopausal fallopian tube and ovary and how these two organs communicate with each other when gynecologic diseases arise, our OB/GYN researchers used single-cell analysis to characterize both the gene expression and the gene regulation of every cell type in the normal postmenopausal fallopian tube and ovary.
At the conclusion of the study, the researchers identified 11 major cell types in the fallopian tube and 6 in the ovary. The group posits that the postmenopausal ovary should be thought of as a senescent organ, especially since certain disease precursors occur throughout a woman's lifespan and are not just "age-related." The researchers also found that fallopian tube epithelial cells express several genes associated with ovarian cancer when altered, and that fimbrial epithelial cells and ovarian stromal cells actively communicate in the microenvironment. Interestingly, parts of the fallopian tube – the isthmus, ampulla, and fimbria – share similar gene expression, but differ in how genes are regulated depending on the anatomic site, meaning gene transcription regulation fluctuates depending on the anatomic region. 
The findings from this study provide unique opportunities to pinpoint gynecologic disease associations with specific cells. It also established a critical resource needed to jump-start research for scientists studying female reproductive health.
Amanda Adeleye, MD, Section of Reproductive Endocrinology & Infertility, published and first-authored an article in Nature's Digital Medicine: "Learning from Online Video Education (LOVE) improves confidence in fertility treatments: a randomized controlled trial."
Dr. Adeleye's and co-authors' from the University of California, San Francisco primary aim was to determine whether educational videos about fertility medications improved infertility self-efficacy scales, fertility quality of life treatment, and Perceived stress scale scores. Their secondary aim was to see if educational videos improved confidence and reduced medication errors during a first ovarian stimulation cycle. At the conclusion of the LOVE study, Dr. Adeleye and co-authors found that while educational videos about fertility medications may not influence psychological well-being, they did significantly improve confidence in medication administration and reduce medication errors.
Stacy T. Lindau, MD, MAPP, Catherine Lindsay Dobson Professor of Obstetrics and Gynecology, co-authored a seminal case and commentary in the AMA Journal of Ethics entitled, "Why Add 'Abolition' to the National Academies of Sciences, Engineering, and Medicine's Social Care Framework?" Dr. Lindau worked alongside University of California, San Francisco faculty Laura Gottlieb, MD, MPH, and University of Chicago faculty Monica Peek, MD, MPH, MS, to propose an update to this social care framework.
In their article, Drs. Lindau, Gottlieb, and Peek describe a patient case about disease self-management and the subsequent health outcomes that are shaped by the individual's unique social and economic circumstances. The authors analyze the case using the National Academies of Sciences, Engineering, and Medicine's social care framework established in 2019. They posit that the current framework, while necessary to organize and operationalize health care sector actions related to social adversity, is often implemented without awareness of the racialized systems and structures that lead to and perpetuate health inequities.
Drs. Lindau, Gottlieb, and Peek extend their argument to propose adding a sixth 'A' to the National Academies of Sciences, Engineering, and Medicine's framework: Abolition, to organize health care's other social care activities that influence outcomes for all racial/ethnic minorities and other socially marginalized populations. Establishing this sixth 'A' not only ensures social care initiatives are high quality, standardized, and systematically implemented; but helps acknowledge and reduce health inequities on historically marginalized people.
Awards
The US News and World Report has ranked the University of Chicago (Pritzker) Obstetrics & Gynecology medical program 16th in the nation. 
Nicole Edison, MD, Section of Gynecology and Minimally Invasive Surgery, was chosen by our graduating residency class as the 2021-2022 recipient of the Golden Apple Award.  
The Golden Apple Award honors excellence in teaching and service to medical education. The award is a testament to Dr. Edison's commitment to training and inspiring the next generation of obstetrician-gynecologists at the University of Chicago. To be acknowledged for these efforts during her first year as a member of our department is truly remarkable.
Dr. Anita Blanchard, retired Professor of Obstetrics and Gynecology, has received the 2022 University of Chicago Medical & Biological Sciences Alumni Association's Distinguished Alumni Award. This award honors alumni who push the boundaries of science and medicine "for the betterment of humanity."
Throughout her career at the University of Chicago, Dr. Blanchard dedicated herself to embody the University's academic missions: clinical, education, and research. She also devoted her career to advancing diversity, equity, and inclusion in medicine. She used her platform as a leader to create opportunities for others who faced limitations due to their diverse backgrounds.
Dr. Blanchard was a mentor to many residents, fellows, and faculty over the years. As UChicago Medicine's associate dean for Graduate Medical Education and Designated Institutional Official, she supervised 133 residency and fellowship programs. She was an active participant in helping to guide the trainee's successful transition from resident learner to outstanding physician provider.
Stacy Lindau, MD, MAPP, Catherine Lindsay Dobson Professor of Obstetrics & Gynecology, is the recipient of the 2022 Association for Clinical and Translational Science Award for Addressing Health Equity Through Partnership and Innovation. This award was established to catalyze research focused on health equity, injustice, and disparity issues in care to support the translation of discoveries into clinical applications that will have a widespread impact on health. In particular, the award recognizes proactive collaborations between academic researchers and community partners to advance clinical applications and practices that foster health equity and address health disparity issues.
Dr. Lindau was nominated by Dr. Doriane Miller, Professor of Medicine and Director of the University of Chicago Medicine's Center for Community Health and Vitality, for her community-based work with MAPSCorps (501c3). MAPS Corps was started at the University of Chicago by Dr. Lindau with Dr. Miller, Dr. Daniel Johnson, Dr. Eric Whitaker, Emily Abramsohn, MPH, Karen Lee, MS, Jennifer Makelarski, Ph.D., and many others from the university and medical center who forged partnerships with community leaders to engineer and innovate strategies for long-term health and well-being. MAPS Corps often provides the first paid employment experience for half of participating youth. MAPS Corps has trained and employed more than 2300 high school students as data scientists in Chicago, New York City, Detroit, rural eastern North Carolina, and Honolulu, Hawaii. The program participants conduct an annual, technology-based comprehensive asset census of target geographies. Then these data are made publicly available for a wide range of applications, including the youths' own scholarly and advocacy work, community economic development, entrepreneurship including clinical technology innovations, public policy, and connecting people to community-based support for good health.
Chicago magazine's 2022 Top Doctors list includes a number of our faculty members and recognizes physicians across Chicago for being at the forefront of their field. Those named were selected by their peers based on several factors, including clinical excellence, bedside manner, education, and board certification.
Gynecologic Oncology
Dr. Nita Lee
Dr. Ernst Lengyel
Dr. S. Diane Yamada
Obstetrics & Gynecology
Dr. Anita Blanchard
Dr. Monica Christmas
Dr. Catherine Harth
Dr. Stacy Lindau
Dr. Kenneth Nunes
Dr. Maryam Siddiqui
Dr. Shari Snow
Maternal-Fetal Medicine
Reproductive Endocrinology & Infertility
Urogynecology
Dr. Juraj Letko
Dr. Sandra Valaitis
Stacy Tessler Lindau, MD, MAPP, has been named the Catherine Lindsay Dobson Professor in the Department of Obstetrics and Gynecology. 
Kunle Odunsi, MD, PhD, has been named the first AbbVie Foundation Distinguished Service Professor in the Department of Obstetrics and Gynecology. 
Read about the 21 UChicago faculty who received named, distinguished service professorships here.
Grants
Rahul Krishnan, MD, second-year Gynecologic Oncology Fellow, was awarded the Amy Krouse Rosenthal Foundation Early Detection Research Grant from the Foundation for Women's Cancer. With this grant, Dr. Krishnan receives two years of funding to support his study. His research has the potential to dramatically advance the understanding of how high-grade serous ovarian cancer develops, findings which will help aid in identifying potential biomarkers for early detection and prevention.
Abir Mukherjee, P.D, staff scientist in the Ovarian Cancer Research (Lengyel) Lab has been awarded a Department of Defense Pilot Award for his project entitled, "Targeting Cancer-Associated Adipocytes Against Ovarian Cancer Metastasis."
Adipose tissue can be characterized as either white or brown adipose tissue. While white adipose tissue is an energy storage organ, brown adipose tissue is responsible for carrying out non-shivering thermogenesis. Dr. Mukherjee has proposed that in the presence of ovarian cancer cells white omental adipocytes differentiate into beige adipocytes and aid in the establishment of omental metastasis. Physiologically beige adipocytes develop from white adipocytes and have distinct gene signatures and metabolic profile, but their role in cancer is unclear.
Ernst Lengyel, MD, PhD, Arthur L. and Lee G. Herbst Professor of Obstetrics and Gynecology and Chair of the Department of Obstetrics and Gynecology, is the recipient of a National Cancer Institute (NCI) R35 Outstanding Investigator Award (OIA). This award is given to investigators who have an outstanding record of cancer research productivity and is designed to provide them with the latitude for continued scientific innovation and research through long-term funding support. With this award, Dr. Lengyel will build on his novel findings of how the ovarian cancer microenvironment promotes metastasis via unique metabolic effects.
Read more about Dr. Lengyel's award here. 
Members of our faculty, participating in In cross disciplinary collaborations within the UCM, recently received a highly prestigious grant.
Dr. Stacy Lindau, with Drs. Elbert Huang and Katherine Thompson (Medicine/Geriatirics), was awarded an RO1 grant from the National Institute on Aging (NIA) for a CommunityRx-dementia study.  Dr. Lindau and her colleagues will carry out a randomized controlled trial testing non-intrusive, flexible interventions for the families, and other non-professional care-givers, of people with dementia.  The goal of these interventions is to match caregivers to critical community-based support. Anyone who has been, or known, a caregiver for a loved one with dementia knows how necessary and valuable this kind of support can be.
Members of our faculty, participating in cross-disciplinary collaborations within UCM, received a highly prestigious grant.
Dr. Mark Eckert  (research assistant professor in the Lengyel Laboratory) and Dr. Ernst Lengyel, with colleagues Drs. Anindita Basu (Medicine/Argonne) and Mengjie Chen (Human Genetics) have received funding from the Chan Zuckerberg Initiative to compile a "Female Reproductive Cell Atlas." The Chan Zuckerberg Initiative was created by Facebook founder Mark Zuckerberg and his wife, pediatrician Dr. Priscilla Chan, to fund projects that use technology to help solve a wide range of medical and societal challenges. This project will use novel methods for single cell RNA sequencing to characterize all the cell types in the healthy human female reproductive track, before and after menopause. The resulting atlas will not only show how menopause and aging affect the cells, but will provide a comprehensive reference for comparison to diseased tissue, yielding new data on how normal tissue gives rise to both benign and malignant gynecologic disease. This information is certain to inform the development of  exciting and effective new therapies.
Read more about this project here. 
Newsletters
Click here to read about the Trans CARE clinic. 
Click here to read about pelvic organ prolapse & the latest treatment options. 
Click here to read about the Diabetes in Pregnancy Program. 
Click here to read about overactive bladder treatments and research. 
Click here to read about the Center for Women's Integrated Health. 
Click here to read about the suggested management of microscopic hematuria
Click here to read about the University of Chicago Program in Integrative Sexual Medicine's approach to patients with sexual function concerns. 
Click here to read about gynecologic cancer care follow-up.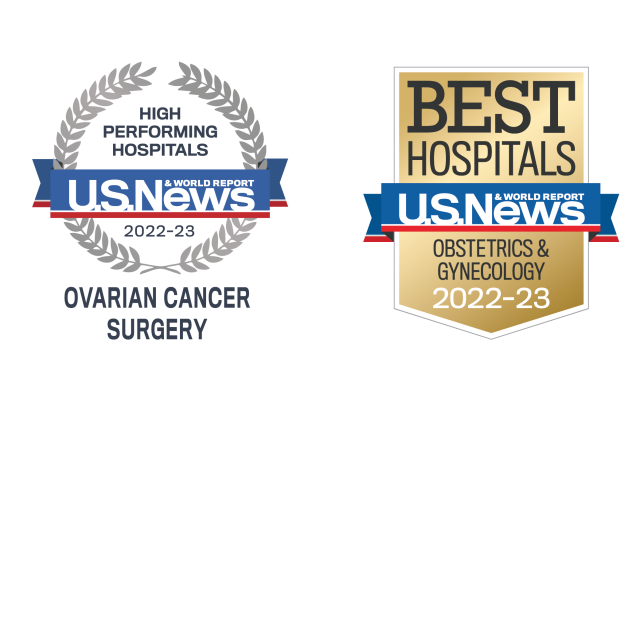 OBGYN Ranked No. 16 in the country & High Performing in Ovarian Cancer Surgery in 2022-2023 U.S. News & World Report rankings